When Appliances Fail and Cause Water Damage, Reach Out to SERVPRO
6/1/2022 (Permalink)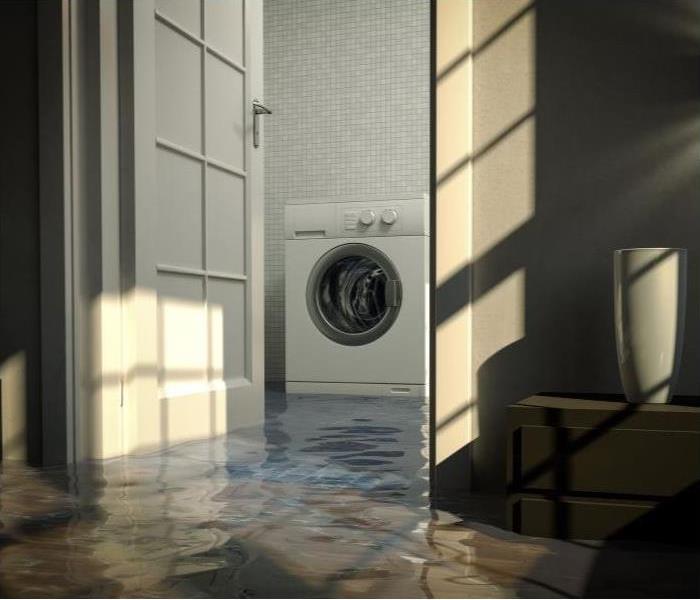 The appliances in your house are meant to make your life more comfortable. Manufacturers are building washing machines and dishwashers better than they ever were in the past yet washing machines and other water-based appliances are not resistant to breaking down or malfunctioning. Even loose connections could spell big trouble for the laundry room and surrounding areas of your home. When appliances such as washing machines fail and cause water damage, reach out to SERVPRO of East Phoenix.
When washing machines fail

A broken or ruptured washing machine hose is a common cause of water damage in homes. The frequency of this problem does not imply that a broken hose is the only culprit, however. Older appliances are more susceptible to breaking down internally as well, and bushings and bearings failing to do their job can result in an equally damaging scenario to your home.
What to do if your machine fails and floods

If you find that your washing machine or dishwasher is malfunctioning and dispersing water onto the floor, you need to act quickly to keep damage at a minimum. The first step is to shut off the water supply to the machine by following the lines on the back of the appliance to the plumbing fixtures. Shut off both water lines, regardless of if only one is causing the issue. Your next step is to call us at SERVPRO. Our experienced water remediation team responds quickly in these kinds of water emergency situations to help get the water cleaned up quickly. Fast responses prevent further damages to adjoining areas of your laundry room or kitchen and keep the overall restoration process the most targeted that it can be. Once the water supply has been shut off, our SERVPRO professionals can get to work on removing the water. Removal is accomplished through many different tools, from full-sized pump trucks to more economical vacuuming and portable pump solutions. Our professionals assess the situation and choose the tools and tactics to best tackle the problem.
Call SERVPRO for all your water damage needs

While you cannot plan for an appliance to malfunction, you can plan for the experienced professionals you call in the event of a water emergency. Trust us here at SERVPRO of East Phoenix and give us a call anytime at (602) 507-6163. Keep our information on hand for any unplanned disaster; we're available 24/7 to help.