Challenges of Commercial Flood Damage Cleanup in East Phoenix
10/11/2023 (Permalink)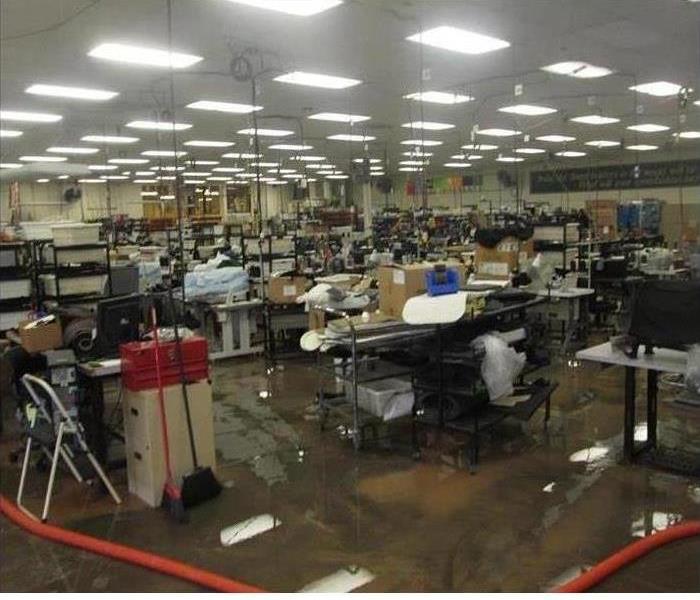 Like other types of water damage, commercial flood damage brings its own unique challenges. Water is heavy, and the more exposure typically dry structural materials have to it, the more weakened they become. Add on top of that the potential toxins or possible sewage that groundwater has the potential to contain, and the need for flood damage cleanup and expedited mitigation for the property becomes even more crucial.
When SERVPRO technicians handle commercial water damage in an East Phoenix business, they typically suggest closing the property and putting up barriers with the purpose of preventing cross-contamination as well as limit foot traffic for safety from issues such as slip-and-fall accidents on wet floors. SERVPRO understands the challenges of closing a business during repair. Every hour spent cleaning up is an hour of lost revenue and productivity. We take all the proper precautions for safety while working as quickly as possible to negate the impact of a closed business.
Locating Water Damaged Structural Components
During restoration services, the technicians investigate the water damage affected areas of the property to determine all areas with elevated moisture. When necessary, cautious demolition tactics such as removal of sheetrock and disposal of wet insulation are necessary for the most thorough drying. Water-impacted building materials such as baseboards, carpet, and flooring that do not have the potential for simple cleaning unfortunately require disposal.
Water Damage Restoration Process
After initial damage inspection and assessment, SERVPRO's highly trained professionals go through a substantial water removal and water extraction process to get as much water off the premises as possible. This step removes the majority of the water using powerful pumps and truck-mounted vacuum units to quickly remove hundreds or thousands of gallons of water from the property. After the initial water removal, drying, and dehumidification takes place to prevent further material damage, warping, or even mold. Cleaning, repair, and restoration are the final steps of the process.
Vent Inspection and Cleaning
If the HVAC system was running after flood damage, the potential for the ventilation system to contain airborne contaminants is a concern, and thorough cleaning and disinfection of the ductwork is standard practice to protect commercial property.
Sanitary Standards for Reopening the Business
SERVPRO technicians have the equipment and proprietary solutions to bring properties back to sanitary condition. In most cases, techs clean water-affected surfaces, eradicating 99.9% of bacteria and microbes to ensure the property is safe for employees and the public once again.
Whether water damage is created by the monsoon season in Phoenix or another issue, there are many challenges associated with commercial flood damage cleanup. The highly trained staff at SERVPRO of East Phoenix can get the job done, regardless of the cause. Our business is getting you back in business.
SERVPRO of East Phoenix at 602-507- 6163 knows commercial flood damage requires expedited action to limit downtime and destruction to a business. The certified technicians work until the property is returned to its preloss condition "Like it never even happened."