Opening a New Business? Have an Emergency Readiness Plan in Place
10/11/2022 (Permalink)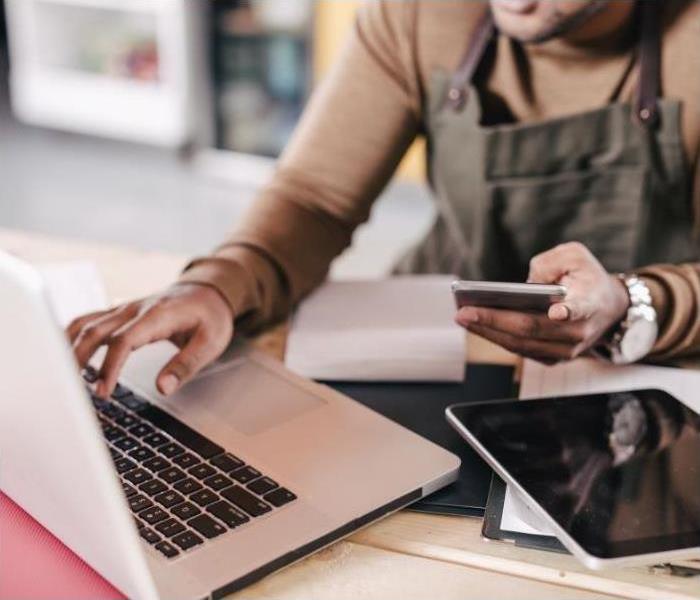 There is a lot to consider when opening a new business. One aspect that most owners do not want to think about but should is being ready for disaster. Whether it is fire, flood, mold damage or biohazard issues, having a plan in place can save time and money, and may make the difference between whether your business stays open or not. Work with your local SERVPRO to design a plan to anticipate your issues and put in place a plan of practical solutions ahead of any troubles.
When damage happens at your place of business

Whether you own a restaurant, a retail enterprise, or manage an event center, your responsibility is to keep the doors open and provide the services or products you promise your clientele. Unfortunately, a broken pipe or appliance malfunction sends water surging through your business, possibly closing you down until the experts to arrive to get the situation managed. Fire, mold, or a crime scene situation can present similar operational challenges. Without a plan, which can waste precious time. SERVPRO suggests working on a proactive blueprint to streamline the assistance we can offer to get you back in business fast.
What does a disaster response plan include?

SERVPRO creates a comprehensive disaster response action strategy for damage with significant input from the business owner. Our Emergency Ready Plan and Profile (ERP) is not a one-size-fits-all approach. We take the time to visit your company location and to talk with you to assess your needs and understand how you deliver your goods or services. The assessment is free of charge and allows us to make a range of suggestions to limit your risk if your commercial space does experience a damage event such as fire, flood, or mold damage. Our experienced project manager walks through your business and sketches out your layout, including vital information like utility shutoff locations. We gather information, take pictures, and determine how we best meet your needs if your site is damaged. Having as much information documented before disaster strikes will help businesses react quickly, smartly, and effectively to keep damage to a minimum and operations less impacted should disaster strike.
How SERVPRO's ERP works

Business owners take an additional step to increase our knowledge by completing your business's profile on the SERVPRO ERP mobile app. On the app, indicate that SERVPRO of East Phoenix is your preferred provider. List any vendors and contractors who have essential information about your equipment and systems. Designate employees or others whom you allow to act on your behalf if you are unavailable during the water crisis. Gathering all this information is critical to a fast and effective response if a water emergency occurs.

Planning for an emergency should be a part of any new business opening. The professionals at SERVPRO of East Phoenix are by your side during an emergency. Be prepared by developing an Emergency Ready Plan and Profile we can use if the worst happens so we can react quickly to protect your business. Call us at (602) 507-6163 to get started.